I told myself no new projects for awhile. I don't even know why I was looking but came across an ad for 3 R's. One '86 that runs and 2 '85's, one supposedly runs. Also included was a ton of spare parts. I called the guy to make sure it wasn't a typo. Before I could fully understand what was happening, I was on my way for a 2 hour ride with trailer in tow.
How many R's fit in a 5x10 trailer?
Exactly 3.
I almost didn't have room for everything.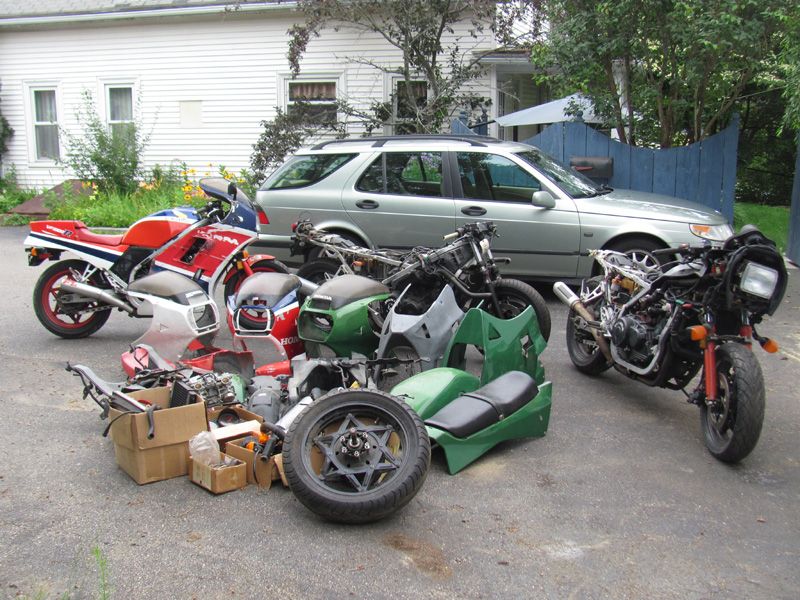 A lot of body parts, some rough, some ok.(I'm amazed at the money people on Ebay are asking for rashed R panels) A clean tank. 2 sets of carbs. A really nice stock exhaust.(1 bike has a set of Yoshi slipons that will clean up nicely). A nice red seat along with a black one. Clean gauges with 4100 miles on it. A straight rear wheel. Clean radiators. Really nice turn signals that look like they were removed when new. Boxes of other stuff, new fork seals, new starter rebuild kit, etc. There's so much to go through, I don't even know what all's there. The guy kept remembering stuff while we were loading and running off somewhere to find it.
History will decide if it was a killer deal at $1500 but I'm fairly sure today that I'm psyched. I bet the right buyer would snag the '86 as she sits for $1500 but I'm going to go through her an bring it back to as close to factory fresh as possible if not a good daily rider. The 2 '85's should make 1 good one. Not sure if that will be stock or a mild resto-mod.
Anyway, I'm off to inventory the rest of the haul.
Quick vid of the '86 running
http://www.youtube.com/watch?v=190ObSy-SdA